Overcoming Roadblocks in Cancer Care
Sometimes it can feel like there are roadblocks standing in the way of getting the medical care you need. Whether it is an issue with insurance, finances or traveling to a treatment center, it may feel overwhelming when you are trying to get what you need for yourself or a loved one facing small cell lung cancer (SCLC). It is important to know where to go for help if you have concerns about receiving medical care or supportive services. Often, the first thing people worry about is the cost of cancer care. Ask to speak to someone at the cancer center like a financial counselor, nurse navigator or social worker who can help with insurance and financial matters. Don't feel afraid or embarrassed. It's helpful to know what to expect and have a plan, and you may be eligible for financial assistance for costs associated with transportation, prescriptions or other cancer-related expenses. Additionally, there are organizations both within and outside the healthcare system who can help advocate for you and your family. You are not alone. For example, if you are looking to find a lung cancer specialist or certain types of treatment, or you are interested in enrolling in a clinical trial that may provide access to SCLC treatments, the GO2 Foundation for Lung Cancer and LUNGevity Foundation have trained lung cancer navigators who may be able to provide information about how to find what you need. Local resources for support may include your own healthcare professionals or community-led programming. Nationally, help is available through country-wide organizations and toll-free cancer support helplines. They may not have all the answers or be able to solve every problem, but they are there to help you overcome roadblocks that may be keeping you from getting the best possible care. We encourage you to learn more about these challenges and where to receive help to get through them.
What are some examples of roadblocks to cancer care?
Fair access to health services is defined by an individual's ability to enter into the health system, easily access a location where essential services are provided and secure a healthcare provider whom the individual is comfortable communicating with.1 If you or your loved one experience any of the barriers to cancer care listed below, please reach out to someone at your cancer center or one of the national organizations included in this article who can help. Examples of Barriers to Health Services:1
Lack of availability of appointments and medical care
Inability to identify a care provider whom the patient trusts and can communicate with
Lack of culturally competent care
Difficulty accessing a location where needed services are provided
High cost of care
Limited or no insurance coverage
Additionally, it's important to be aware that culture or identity due to race, ethnicity, gender, religion or sexual orientation can impact access to healthcare.2 Fortunately, there are advocates and experts in the cancer community working to address health equity issues by identifying and understanding barriers to treatments and clinical trials for patients living with diseases such as SCLC.
Where and how can I find support based on my needs?
For those in need of financial aid or support with insurance:
The PAN Foundation, an organization that helps underinsured people living with life-threatening, chronic and rare diseases, opened a patient assistance program for people living with SCLC who are enrolled in Medicare and are actively receiving treatment. You can apply on your own or on behalf of a loved one by completing an online form or calling the Foundation. Please note that funds like this open and close based upon donations and may not be available when you apply.3
CancerCare®, a nonprofit organization that provides free, professional services from oncology social workers and cancer experts, offers online and in-person support programs to help people manage the emotional, practical and financial challenges of cancer. These resources include:

Financial Assistance Programs, which provide financial aid for people with a cancer diagnosis who are currently undergoing treatment. These types of programs cover costs related to transportation, home care and childcare.4,5
Co-Payment Assistance Funding, which helps people living with cancer overcome barriers to accessing care by assisting with co-payments for prescribed treatments. Patients can enroll on the CancerCare website by working with their medical team to fill out a verification form confirming their diagnosis and treatment plan, federal health insurance program, citizenship and income. Please note that financial assistance can be limited. Support funds open and close based on donations and may not be available when you apply.4,6
Understanding Your Insurance Coverage, which outlines steps to fully grasp what your insurance covers and important terms to know. And for those who do not have immediate or easy access to insurance, this guide also lists important questions to ask to connect you with a potential temporary or permanent coverage solution.7
Once you identify the program that's right for you, CancerCare can set you up with a social worker to connect you with the appropriate resources. To apply for one of CancerCare's financial support programs, call 800-813-HOPE (4673).4 If you are a young adult with debt, The Samfund provides support to young adult cancer patients and survivors who are struggling financially due to medical debt. The Samfund also offers free online education through resources and webinars, as well as a community of people with similar stories.8 Pharmaceutical Company Patient Assistance Programs are also offered by many drug companies to help lessen the out-of-pocket expenses for commercially insured, low-income patients who are prescribed certain treatments.9 For those in need of transportation or lodging support: Whether you are living with cancer and need transportation to a service provider, or you are a family member who needs lodging during a sick loved one's medical treatment, there are organizations that provide resources for those in need of travel assistance, including:
For those in need of legal services or help with workplace issues:
Triage Cancer is a national, nonprofit organization that provides education on the practical and legal issues that may impact individuals diagnosed with cancer and their caregivers. They have free materials and online classes about your legal rights as a patient and how to work with your insurance company. They also have an online Toolkit for Navigating Finances After Cancer that is designed to help guide you through some key topics that may impact your financial situation. Whether you are newly diagnosed or many years past active treatment, this site can help.15
Cancer Legal Resource Center (CLRC) is a program of the Disability Rights Legal Center (DRLC), a non-profit advocacy organization that champions the civil rights of people with disabilities as well as those affected by cancer and other serious illness. CLRC provides information through its national telephone helpline, outreach programs and community events to educate and to support cancer patients, their families, healthcare professionals and advocates on things like keeping your job through treatment, getting healthcare and government benefits, taking medical leave and planning for end-of-life. For a person with cancer, these issues often result in worry and confusion, which can be overwhelming.16
Cancer and Careers is a non-profit organization that provides helpful information about what you need to know about your rights in the workplace and how to navigate the health insurance maze. They provide vital information about how you can get the most job security and/or benefits and reduce stress when dealing with all the paperwork and red tape that often comes with cancer.17
For those in need of home care services: If your preferred at-home services aren't covered by insurance or you're unable to afford out-of-pocket expenses and are Medicare-eligible, you may qualify for the Medicare Home Care Benefit. To qualify, your doctor must confirm that:18
You require medical care at home and that the doctor can provide a plan for your at-home care.
You need at least one of the following services either part-time or on-and-off: nursing care, physical therapy, speech therapy or occupational therapy.
You are unable to leave the house without help or without needing to make a good deal of effort.
If you meet the above requirements, you can contact the Centers for Medicare and Medicaid Services at 1-800-MEDICARE to get set up.18
What should I do if I'm feeling overwhelmed about managing my care?
CancerCare's oncology social workers can provide emotional support both online and in-person, free of charge. These professionals understand the complex issues related to cancer care, and they're available 24/7 to provide counsel, help identify people's specific needs and connect them with the appropriate resources and/or community programs to lessen the isolation that comes with a cancer diagnosis.19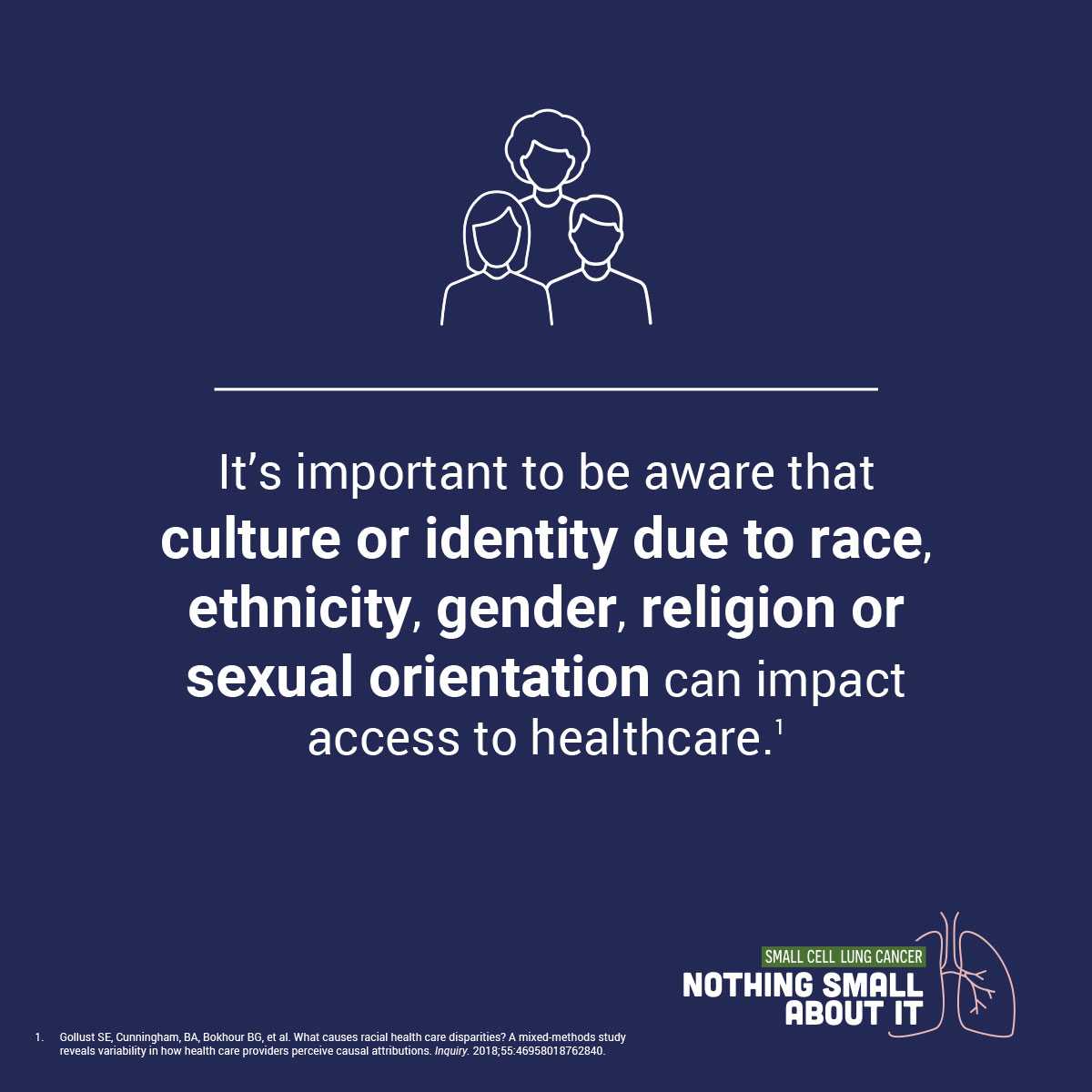 The Impact of Culture or Identity on Access to Healthcare
Download Here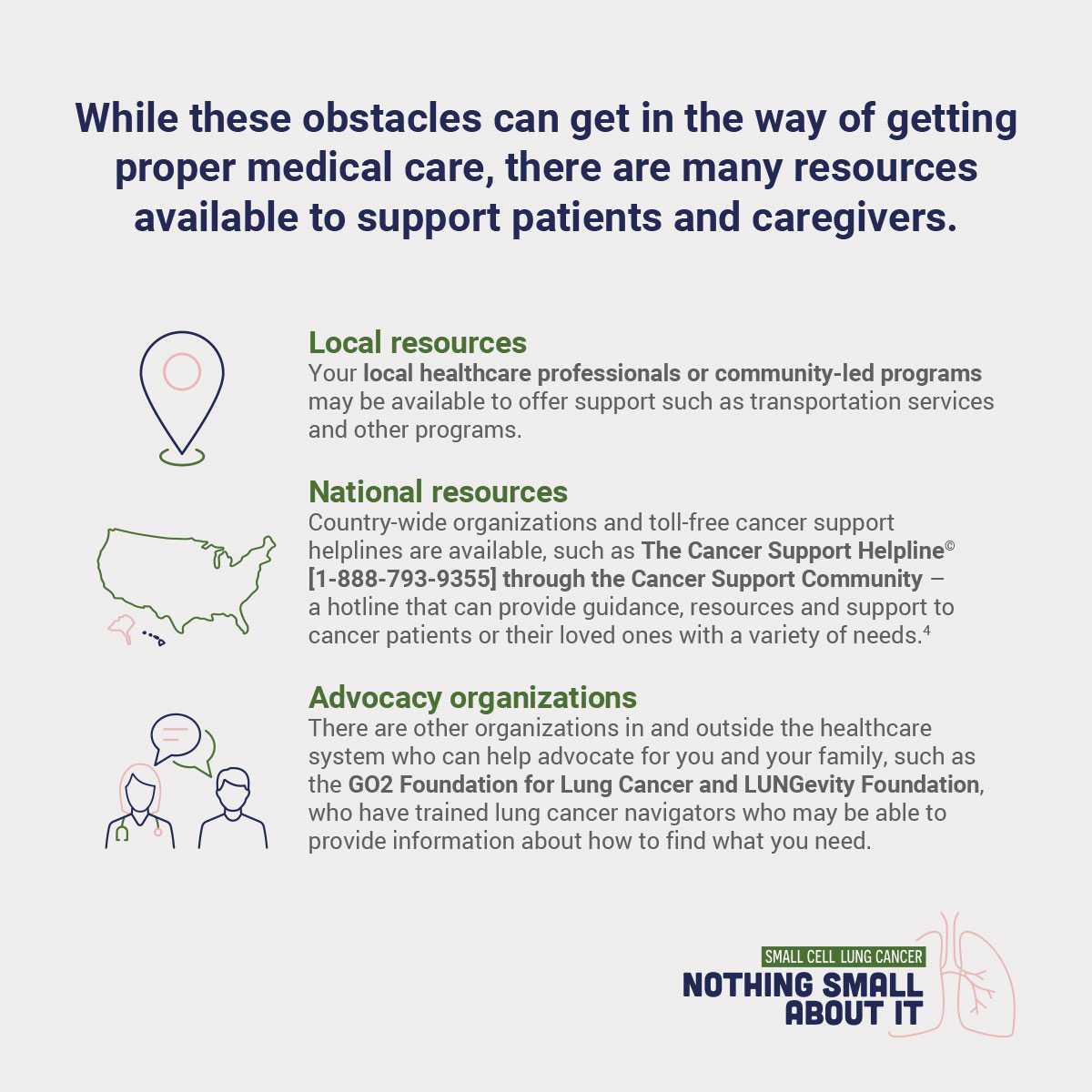 References
Office of Disease Prevention and Health Promotion. Access to health services. https://www.healthypeople.gov/2020/topics-objectives/topic/Access-to-Health-Services. Updated February 6, 2022. Accessed June 3, 2022.
Gollust SE, Cunningham, BA, Bokhour BG, et al. What causes racial health care disparities? A mixed-methods study reveals variability in how health care providers perceive causal attributions. Inquiry. 2018;55:46958018762840.
PAN Foundation. Small cell lung cancer. https://www.panfoundation.org/disease-funds/small-cell-lung-cancer/. Accessed December 7, 2022.
CancerCare®. Financial and co-pay assistance. https://www.cancercare.org/financial_assistance. Accessed December 7, 2022.
CancerCare®. Financial assistance program. https://www.cancercare.org/financial. Accessed December 7, 2022.
CancerCare®. Co-payment assistance fund, small cell lung cancer. https://www.cancercare.org/co_payment_fundings/small-cell-lung-cancer. Accessed December 7, 2022.
CancerCare®. Understanding your insurance coverage. https://www.cancercare.org/publications/299-understanding_your_insurance_coverage. Updated June 24, 2022. Accessed December 7, 2022.
The Samfund homepage. http://www.thesamfund.org/. Accessed December 7, 2022.
Centers for Medicare & Medicaid Services. Pharmaceutical manufacturer patient assistance program information. https://www.cms.gov/Medicare/Prescription-Drug-Coverage/PrescriptionDrugCovGenIn/PAPData. Updated December 1, 2021. Accessed June 3, 2022.
Cancer Support Community. Cancer support helpline. https://www.cancersupportcommunity.org/cancer-support-helpline. Accessed July 19, 2022.
Mercy Medical Angels® homepage. https://www.mercymedical.org/. Accessed December 7, 2022.
Air Charity Network homepage. http://aircharitynetwork.org/. Accessed December 7, 2022.
Fisher House Foundation about page. https://fisherhouse.org/about/. Accessed December 7, 2022.
Joe's House about page. https://www.joeshouse.org/about-us. Accessed December 7, 2022.
Triage Cancer about page. https://triagecancer.org/about-us. Accessed December 7, 2022.
Cancer Legal Resource Center about page. https://thedrlc.org/cancer/about/. Accessed December 7, 2022.
Cancer and Careers homepage. https://www.cancerandcareers.org/en. Accessed December 7, 2022.
American Cancer Society. Who pays for home care for cancer patients? https://www.cancer.org/treatment/finding-and-paying-for-treatment/choosing-your-treatment-team/home-care-agencies/who-pays.html. Updated May 13, 2016. Accessed June 3, 2022.
CancerCare®. The value of oncology social workers. https://www.cancercare.org/publications/262-the_value_of_oncology_social_workers. Updated July 28, 2020. Accessed December 7, 2022.